4th Annual Thurmont Plein Air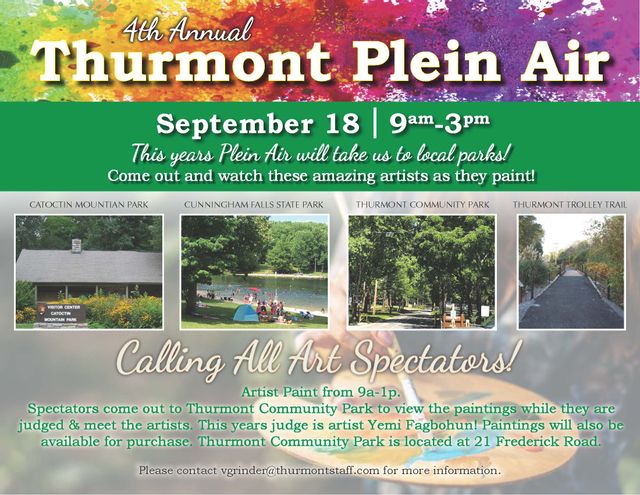 Description
This event is rescheduled from August 28 to September 18 due to storms in the area on the original date..
If you are not currently register, there is still time to attend! 
Love to paint outdoors, meet other artists and have fun? Then you will not want to miss the 4th Annual Thurmont Plein Air. This year we will paint the Parks located in Thurmont!
*Artists will check-in at the Thurmont Main Street Center (11 Water Street) between 8 and 8:30 a.m. and be on location by 9 a.m.
*1 p.m. artists will return to Thurmont Community Park  (21 Frederick Road) and have their paintings on their easels for a 2 p.m. judging.
*1st place- $100, 2nd place- $50 and Honorable Mention $25.
The 4th Annual Thurmont Plein Air is for spectators too! This event is the perfect opportunity to visit the beautiful properties at the vineyards and watch the artists paint outdoors. Spectators, return to Thurmont Community Park to meet the artists, and watch the judging and awards to the artists.
For an artist application download here
or you can email Karen at [email protected] or Vickie at [email protected]
Not an artist but love art? Join us at Thurmont Community Park (21 Frederick road)1 p.m. to view all of the artists work and meet the artists! This years judge will be artist Yemi Fagbohun. For more information on Yemi you can go to  https://www.facebook.com/yemiartist &  Glass murals | Yemi Glass Art | United States (yemiart.com)
Thurmont Main Street
11 Water Street , Thurmont, MD 21788
9:00 AM EDT
to 3:00 PM EDT
Private:No
RSVP Required:No