Thurmont Main Street Pop Ups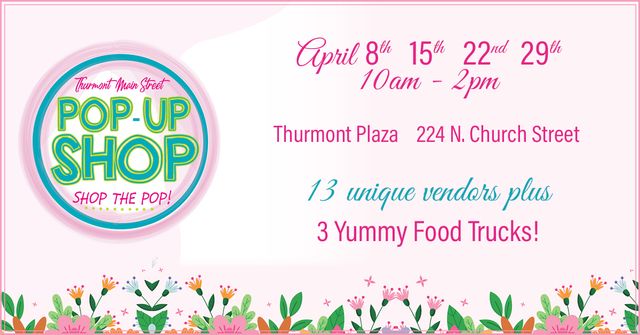 Description
Hey Everyone Shop the Pop! The Spring Pop Ups are back Saturday, April 8 at the Thurmont Plaza beside of the Dirty Dawg. They are every Saturday through April 29, 10a-2p. 11 unique vendors will have homemade baked goods for Easter, commercially made merchandise, handmade jewelry and hand sewn items, Easter flowers, planting flowers, and vegetables from Karen Young Myers. Also, brand names such as Color Street, Mary Kay, & Color Street.
Come hungry because we have Old Fireman's BBQ as the food truck this week from 11a-2p.

Click here to find out more about Old Fireman's BBQ & Catering & their mission!

A big thanks to The Dirty Dawg for booking the food trucks for our April Pop Ups! Thurmont Plaza, 224 North Church Street, Thurmont, MD
Food Truck April 15: Rock & Rollin Roasters
April 22: Cookin' with Greece
Thurmont Plaza Shopping Center
224 North Church Street, Thurmont, MD 21788
10:00 AM EDT
to 2:00 PM EDT
Private:No
RSVP Required:No
Accept Registration Online:No