Thurmont Main Street Farmers Market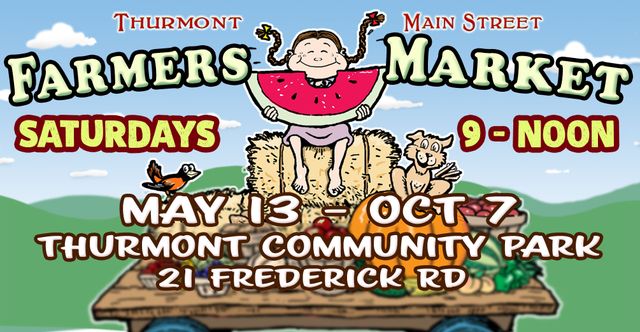 Description
Our 2023 Thurmont Man Street Farmers Market is back beginning Sat. May 13 & every Sat. through October 7 from 9a-Noon. Don't miss all the freshness & incredible variety from local farms. One of the largest Farmers Markets in Frederick County! Two large local farms with produce & fruit, a variety of bakers, local farm Deer Run Farm with fresh red angus beef, chicken, eggs, pork. Locally made sauces, rubs, kombucha, & so much more! Hand sewn items, homemade goat soap from local farm The Lind Family Farm. Ed will also have a few goats & rabbits at his tent. In our 19th year!
WIC & SNAP accepted at:
Mikes Farm Market & Chestnut Hill Farm
A different Food Truck each week.
Thurmont Community Park 19 Frederick Road Thurmont, MD
Thurmont Community Park
21 Frederick Road, Thurmont, MD 21788
9:00 AM EDT
to 12:00 PM EDT